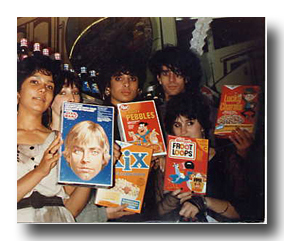 Often, after staying up all night at this or that club and then at an afterhours club, those who were remaining standing would find some other mischief to get up to in the post-dawn hours. We went to the art deco Cala on Hyde Street (in San Francisco) this particular morning in 1984. As we had arrived at the grocery store a bit before 6 am, we had to waste some time in the store before we could buy the champagne we went there to fetch. So, we played in the cereal aisle.
Airline Todd and I are in both these photos. The others — who knows where they are now?
Contents of the Misspent Youth pages ©2001-2003 by Mordantia Bat
Though Bat misspent her youth well, she still ended up with some change leftover. So, she plans on having a misspent dotage as well. For some more recent slices into Bat's life, see her journal/blog Extispicy.